CHARITY BALL, LEEDS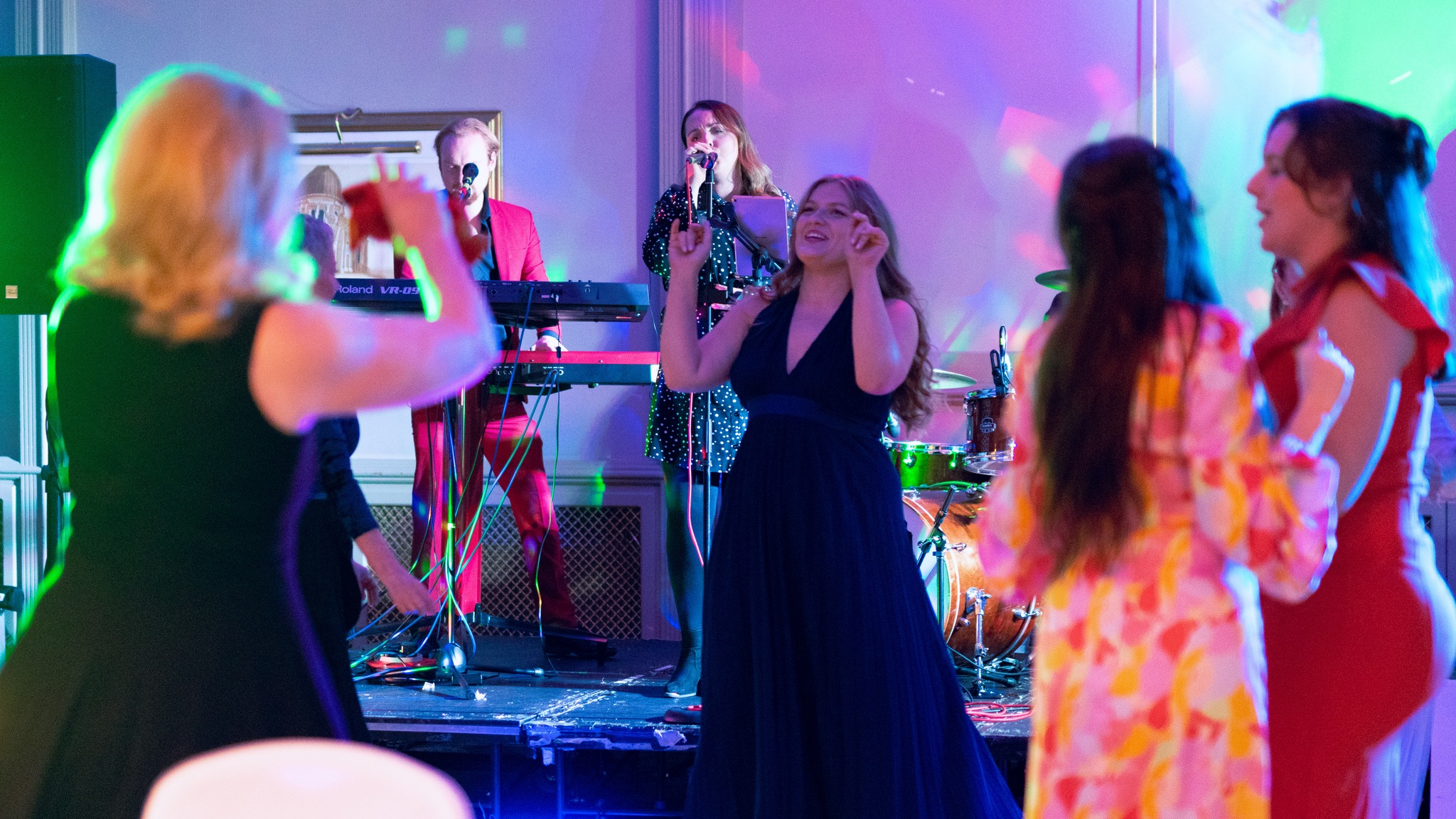 "Central Avenue are amazing! They performed at the 'It's Our Day' charity ball and really enraptured the crowd! Nobody wanted them to stop playing. They brought great energy and I cannot recommend them enough!"
- Emma's Embrace, October 2022
ROYAL MILITARY ACADEMY SANDHURST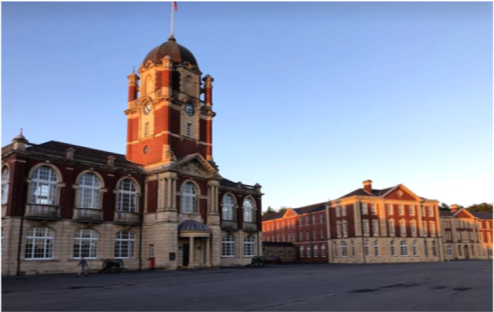 "AMAZING! The band played for a charity dinner night, providing the perfect entertainment for the after party. The band were great to liaise with in the build up and were very understanding on the day. I couldn't recommend enough.".
- RMA Sandhurst, The British Army, October 2021
ASTON MARTIN OWNERS CLUB UK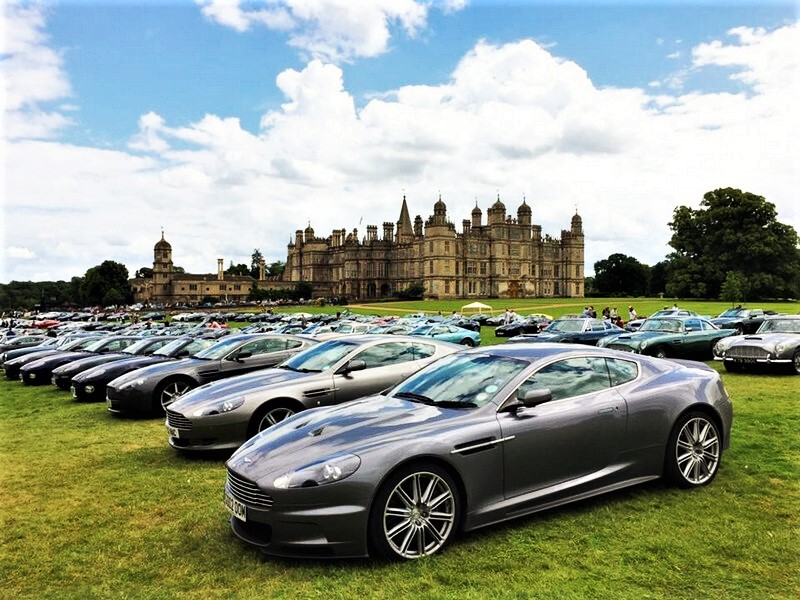 "Very talented group of musicians. Really reliable with timings, setting up etc. The playlist was spot on for the group of guests we had and there was something for everyone to sing and dance along too. A great night provided by them. Highly recommended"
- The Aston Martin Owners Club UK, September 2019
MARQUEE WEDDING, CHESHIRE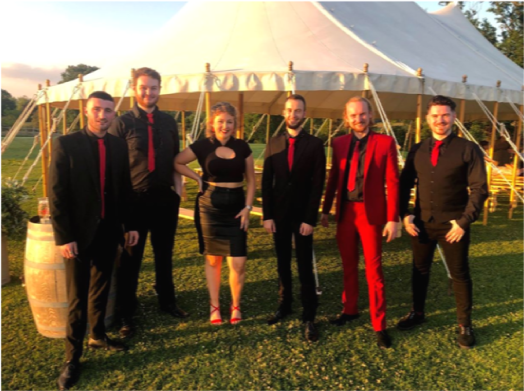 "Central Avenue played at our wedding last week and were fantastic, all the guests loved them. They were so great to work with in the lead up to the event too - really responsive, organised, flexible and positive. Even on the day, they put a few songs together for the kids which went down really well. Thanks so much to Harry and the team for such a great time!"
- Lucy & Joe, June 2021
BIRTHDAY PARTY, STUDIO 54 DISCO THEME, LONDON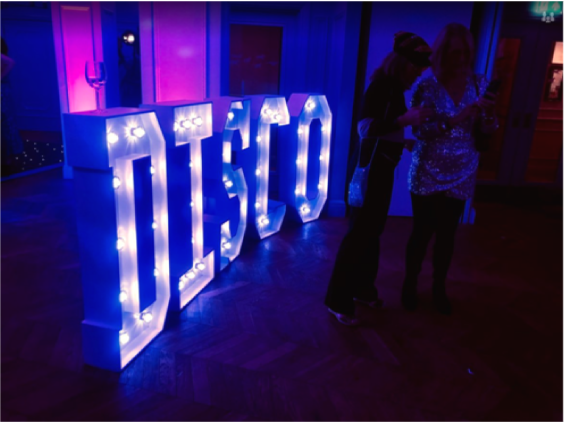 "Central Avenue put on an amazing performance at my Birthday party. From the moment they started the dance floor was full until the end of their set & encore. Thanks, guys, for making my party so memorable!"
- Monique, October 2021
30TH BIRTHDAY PARTY, HAMPSHIRE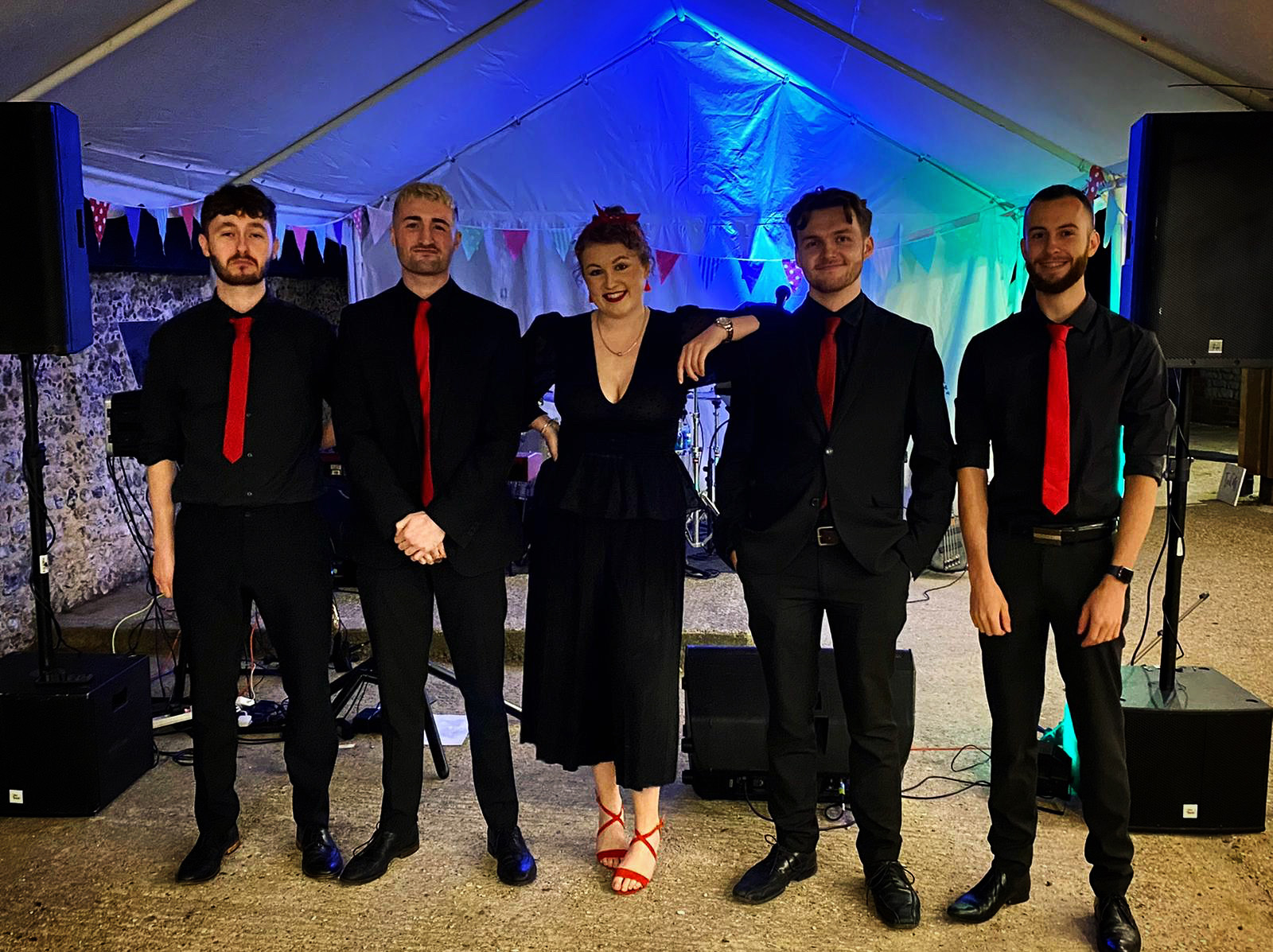 "Central Avenue were incredible at our recent party! Harry (the manager) was extremely communicative and helpful in the build up and on the day, the band were highly professional. They made our party incredibly special, playing all of our requests and keeping the dance floor packed all evening. I would highly recommend Central Avenue - they made our party one to remember!"
- Lily, 30th Birthday Party in Hampshire, September 2021
WEDDING, EAST SUSSEX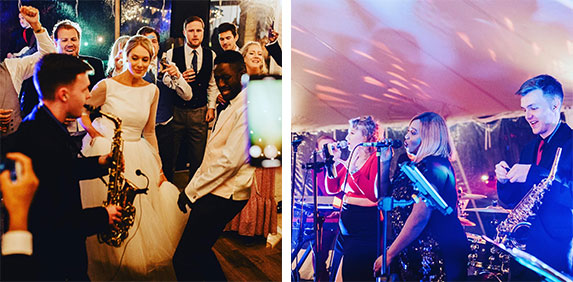 "Incredible band who played a key part in making our wedding the special day it was! Highly recommend"
- Isy and Ope, September 2019
BARN WEDDING, CUMBRIA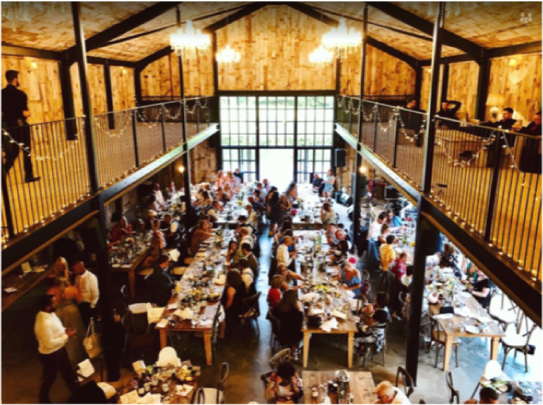 "Amazing band!! our experience with them from booking to performance was incredible. They absolutely took our wedding reception to the next level and it's an evening we will never forget"
- Laura & Gina, August 2021
WEDDING, HARROGATE
"Central Avenue played for our wedding last week. They got everyone dancing! So many people commented on how much they liked the band and what an amazing time they had. Thank you"
- Rachel, July 2021
30TH BIRTHDAY PARTY, BERKSHIRE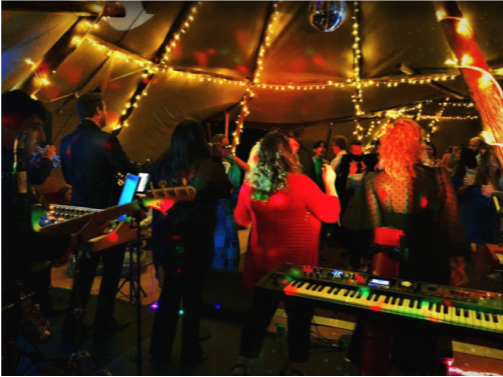 "10/10! We booked Central Avenue for my husband's 30th birthday party a couple weekends ago and it was the best decision we could have made!The female vocalists blew us all away and the added horn section was worth every penny. There wasn't a single moment during their performance where the dance floor was empty! We got rave reviews from our guests, who were thoroughly impressed. When the band finished their set, our guests started shouting 'encore', to which they kindly obliged. They took our party to the next level and helped create an unforgettable night. Needless to say, we will be booking Central Avenue for any future events!"
- Elizabeth, September 2021
TIPI WEDDING, HERTFORDSHIRE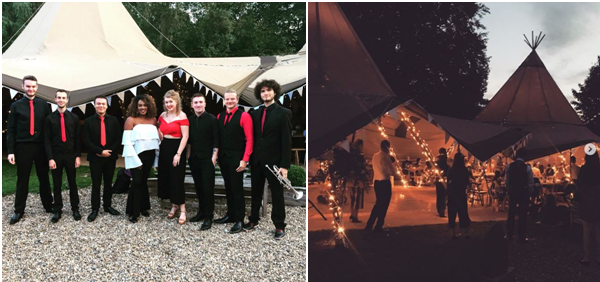 "We hired Central Avenue for our wedding in the Hertfordshire countryside in September 2018. They put on nothing short of an absolutely fabulous performance in our festival tipi! They are wonderful musicians and singers. They had a great set list to choose from and were extremely professional and accommodating with our last minute changes. During their interval they even offered to learn to play a new song so that our nieces could sing it to us as a surprise. The bands manager is very professional and we had great communication from start to finish. We had countless compliments on the band and can honestly say we have never been to a wedding before (and we've been to a lot) where the dance floor remained packed throughout the entire performance. Thanks for helping to make our big day so special! We highly recommend them for any event you may have planned"
- Paul, September 2018
MARQUEE WEDDING, HAMPSHIRE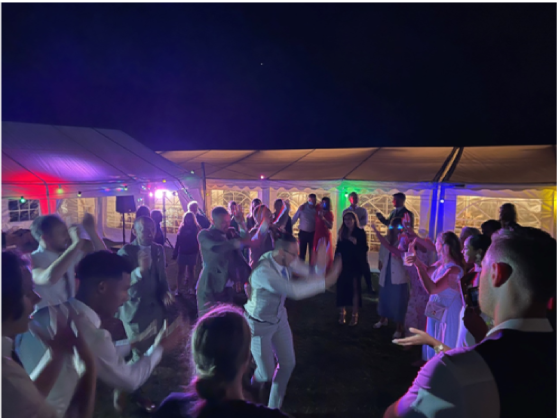 "Amazing band!! our experience with them from booking to performance was incredible. They absolutely took our wedding reception to the next level and it's an evening we will never forget"
- Perri and Laura, August 2021
THE POACHERS COUNTRY HOTEL, LINCOLNSHIRE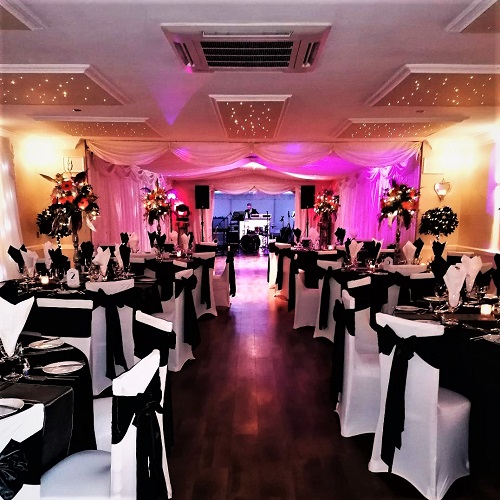 "We booked Central Avenue for our New Years Eve event at our venue. From the start of enquiring all the way through to the event the team were very helpful and accommodating. On the night all guests enjoyed the band as they played a variety of music and made the night enjoyable. All the band were friendly and had a good night welcoming in the New Year"
- Lyle, December 2019
50TH BIRTHDAY PARTY, LEEDS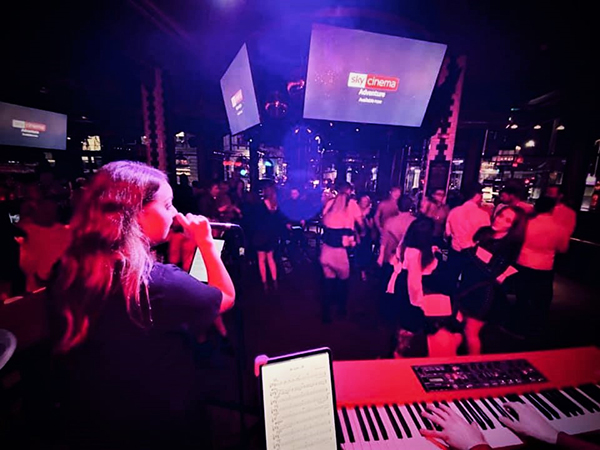 "We booked Central Avenue for a 50th birthday party. They were absolutely fantastic! Would highly recommend. Great communication from Harry before the event, reliable with timings and brilliant music on the night – got everyone up and dancing with a set list that appealed to all ages. Thank you for making our night!" 
- Alison, February 2019
PLANNED LIGHTING MAINTENANCE, HAMPSHIRE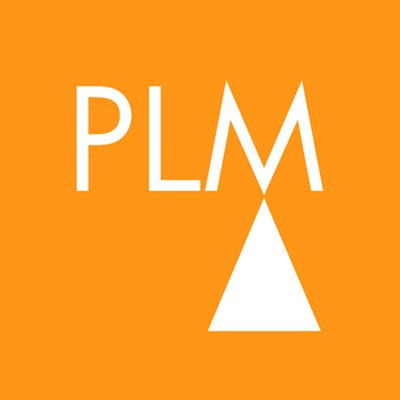 "Central Avenue were amazing from the offset – professional, friendly and the music was brilliant. A very talented bunch of musicians who successfully got the whole party grooving to each song. They delighted all the guests. Everyone who attended the event said how incredible they were and I can't recommend them enough. If you're on the fence, jump over and book the band"
- Roni, November 2018